Marvel Studios has been courting Jake Gyllenhaal to join the Marvel Cinematic Universe for years. But it wasn't until the role of Quentin Beck/Mysterio in Spider-Man: Far From Home came to him that the acclaimed actor decided to suit up. It's a good thing he said yes, too: fans are already hailing Mysterio – and consider this a major spoiler warning if you have not seen the film – one of the best MCU villains yet.
What was it about the fan-favorite villain that got Gyllenhaal to finally say yes? And how did he prepare for a role that would marry his quirky Gyllenhaal-ness with the fiendish supervillainy of the MCU? In this exclusive, extended interview, Gyllenhaal details everything that attracted him to the role of Beck, as well as his approach to the character and his motivations. Plus, the actor breaks down what it's like to be in an MCU action scene, how he dealt with Mysterio's costume, forging a relationship with Peter Parker, and gets deep on the movie's biggest twists and surprises.
---
Like this? Subscribe to our newsletter and get more features, news, and guides in your inbox every week.
#1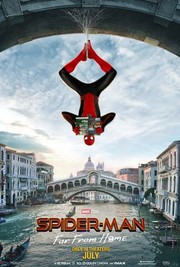 Critics Consensus:
A breezily unpredictable blend of teen romance and superhero action, Spider-Man: Far from Home stylishly sets the stage for the next era of the MCU.
Synopsis:
Peter Parker returns in Spider-Man: Far From Home, the next chapter of the Spider-Man: Homecoming series! Our friendly neighborhood Super...
[More]