Join us weekly as Rotten Tomatoes reports on what's opening, expanding, and coming to the specialty box office. From promising releases from new voices to experimental efforts from storied filmmakers – or perhaps the next indie darling to go the distance for end-of-year accolades – we will break it all down for you here each week in Fresh Indie Finds. 
---
This week at the specialty box office, we have new offerings from Alex Wolff, his brother Nat Wolff (with Alexander Skarsgård), and an impressive debut from a Tribeca Film Festival winner who wrote, shot, and cut a film starring Wendell Pierce while still in high school. In our spotlight section, we re-visit three Oscar hopefuls that earned the best per-screen average of last week and all of which will expand to more theaters this week. In our indie trailer section, we have a new film from Ethan Hawke, Logan Marshall-Green's directorial debut; a new Robert Pattinson-centric final trailer for The King; and a powerful doc about an East Los Angeles football rivalry.
---
Opening This Weekend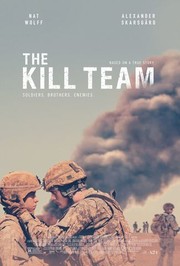 Writer-director Dan Krauss covered the real-life events that inspired The Kill Team in his award-winning 2013 documentary of the same name, and now he's back with a narrative adaptation. Nat Wolff plays Andrew Briggman, a young soldier in Afghanistan who witnesses other recruits massacring civilians at the behest of commander Sergeant Deeks, played by a terrifying Alexander Skarsgård. The film follows Briggman, caught between doing the right thing and reporting the crime and protecting himself from retaliation by his murderous platoon members, as he treks through the Afghan warzone with his fellow soldiers. David Ehrlich of Indiewire wrote: "As lucid and intense as it is underwritten… this riveting thriller still manages to amplify its subject much louder than Krauss has been able to before."
---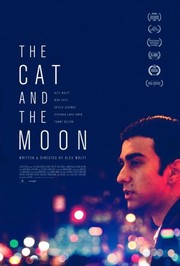 Writer/director/actor Alex Wolff hits theaters both in front of and behind the camera this weekend for his feature directorial debut, The Cat and the Moon. In the film, we follow Nick (Wolff), a teen who explores the streets and dark jazz rooms of New York City with a friend of his late father after his mother unexpectedly abandons him to enter rehab. When we chatted with Wolff about his film, he confessed to enlisting the help of his former directors Peter Berg, Ari Aster, and Cory Finley for advice during his first shoot: "They talked me through what it's going to be like and what to prepare for. What I learned from them was to have full confidence in what I was trying to make." It would appear that advice paid off, as Dennis Harvey of Variety notes in his review: "Wolff avoids predictable beats, letting significant insights emerge almost incidentally rather than milking them for melodramatic effect."

Playing New York and Los Angeles; expanding to more screens on November 1.
---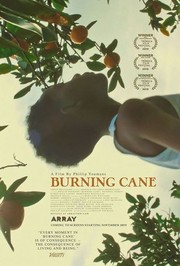 Burning Cane would be an impressive feature for a veteran filmmaker with several features under their belt. The fact that it was written, shot, and edited by a high school filmmaker is nothing short of remarkable. Religion, familial strife, and substance abuse take center stage in this Tribeca award-winning debut feature from Phillip Youmans, who has caught the eye of several Hollywood A-listers, including Spike Lee and Jordan Peele, and his film is being released by Ava DuVernay's production company, Array. Jared Mobarak of The Film Stage called it "a dark metaphor with even darker results. [Youmans'] handling of the topic is unapologetic in its visually poetic yet starkly matter-of-fact honesty."

Playing New York, Los Angeles, Chicago, and New Orleans; expanding to more screens on November 2.
---
Fresh and Still in Theaters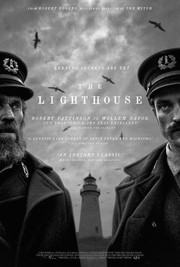 Following up his cult smash hit The Witch, Robert Eggers is back in theaters this weekend with a new ambient horror tale, The Lighthouse – a rain-soaked fever dream in which the entire narrative takes place on a remote New England island and inside a mysterious lighthouse. Robert Pattinson and Willem Dafoe star as two lighthouse keepers – or "wickies" – who are tormented by unseen, or perhaps imaginary, dark forces while cut off from the outside world, with only their uneasy cohabitation to keep them sane. Or not. Heavily influenced by the early 20th-century painter Andrew Wyeth, Eggers (who co-wrote the film with his brother Max Eggers) utilizes 19th-century camera equipment and filming techniques to give the film its distinctive period aesthetic. Lewis Knight of the Daily Mirror describes the film as "[A] gothic, dark fairy-tale, incomprehensible… and incredibly elusive throughout; which only serves to make it more hypnotic as it weaves its dark web before it reaches its chilling climax."

Playing select theaters; expanding to more screens on October 31. 
---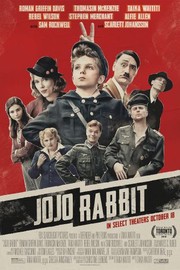 Hot on the heels of Thor: Ragnarok, Taika Waititi brings us Jojo Rabbit, a satire set in Germany at the end of World War II. We follow Jojo, a 10-year-old fan of the Führer who discovers his mother is hiding a teenaged Jewish girl in his attic. Jojo must then decide what to do next: Will he choose the side of his mother or that of his best friend and father-figure, an imaginary version of Nazi leader Adolf Hitler, played by Waititi. The winner of the 2019 Audience Award at the Toronto International Film Festival, this absurdist anti-hate satire is a timely skewering of blind ideology, as well as a surprisingly feel-good family film with standout performances from Sam Rockwell, Scarlett Johansson, Leave No Trace star Thomasin McKenzie, and newcomer Roman Griffin Davis in the title role. It's a coming-of-age story that Marc Savlov of the Austin Chronicle writes is "Unlike any other, filled with the director's trademark heart and a soul-stirring argument against the ever-ready darkness of unswerving, 'patriotic' nationalism."

Playing select theaters; expanding to more screens on October 31. 
---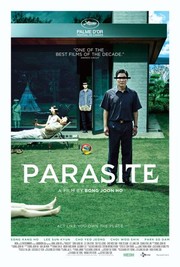 The Palme d'Or winning Parasite racked up nearly $400,000 in receipts its first weekend in just three theaters and can now boast the best per-screen-average of 2019 at the specialty box office. The Oscar hopeful expands to more screens this week and looks to keep the buzz going for what many are calling the best film of 2019. Following a low-income family as they try to hustle their way to a better life through their association with an affluent family, Bong Joon-ho's masterful work takes several hilarious twists and turns on the road to its dramatic conclusion. "A condemnation of choosing to ignore the inconvenient suffering of your fellow human beings, presented in a series of accomplished visual metaphors that'll make you rethink all sorts of ordinary household objects," writes Katie Rife of the AV Club.

Playing select theaters; expanding to more screens on October 31. 
---
Along with…
---
New Indie Trailers
The King (2019) 71% 
Timothee Chalamet and Robert Pattinson star in this historical drama about "Hal" Henry V, tracing his life from his wayward youth to his unexpected coronation and his historic victory at the Battle of Agincourt.
---
Mrs. Lowry & Son (2019) 62% 
A dramatic biopic about industrial painter LS Lowry, played by Timothy Spall, and his symbiotic yet contentious relationship with his ailing mother, played by Vanessa Redgrave.
---
Adopt a Highway (2019) 69% 
Ethan Hawke plays a fresh-out-of-prison ex-convict who adopts an abandoned baby in Logan Marshall-Green's directorial debut.
---
The All-Americans (2019) 80% 
A long-standing football rivalry in East Los Angeles takes center stage in this Friday Night Lights meets Hoop Dreams sports doc.
---
Like this? Subscribe to our newsletter and get more features, news, and guides in your inbox every week.